Chicago Memory Booth specializes in making memories that last a lifetime.  Our Photo Booth is the perfect addition to any wedding, birthday, graduation, anniversary or block party.  Consider us at your next bar/bat mitzvah, quinceanera, fundraising or charity gala, prom or corporate event. Your guests will be so happy you did!
Everyone offers unlimited sessions, but at Chicago Memory Booth we not only offer unlimited sessions during rental.
We also provide a photo strip to every guest who poses for the picture.
From young to old, when the curtain closes, people lose their inhibitions and their true personalities are captured forever on a photo strip.  You will be surprised what a few props and four pictures will do for your party!
Photo Booth Rental Demo from Chicago Memory Booth
Chicago Memory Booth took the Photo Booth to the next level with the Slo Mo Booth Rental.
The Slo Mo Booth is the newest and hottest way to create a fabulous keepsake and have a great time doing it. Dance, blow bubbles, kiss, or just go crazy and let the camera do the magic! After recording the SloMo video,  guests can upload instantly to Twitter, Facebook or e-mail.  They can also print a digital copy to take home. Includes a "Director" a/k/a Attendant.
Chicago Memory Booths Slo Mo Booth Video Montage from Chicago Memory Booth on Vimeo.
Step 1 – Record!
Guests step in-front of the Photo Booth and the high-speed camera records a 4-10 second video. Using all kinds of neat new props such as confetti, bubbles, and balloons you get exciting videos that were never before possible!
Step 2 – Review!
The 4-10 second video is replayed in 4x-6x slow motion! After reviewing the video, guests then have the option to replay, re-do, or move on to the next step.
Step 3 – Print!
Guests are presented with 30 still images from the video. From here, they will choose 3 of which they'd like to have printed on 4×6 photo paper for memories that will last a lifetime!
Step 4 – Share!
While their pictures are printing, the guests can then share their slow motion video with the world through social media or email!
The Super Bonus – Slo Mo Booth Montage Video
After the event, we take all of the slow motion footage recorded, bring it to our studio and provide you with a high definition, fully edited short film that really captures the fun guests had at your event.
Truly the Photo Booth Rental for all occasions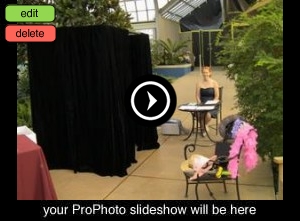 Props are included with each photo booth rental.
No one wants to rent something for their special occasion and get hit with unexpected charges so we make sure the price you see is the price you pay.  No hidden fees or up charges.  We leave those little surprises to the airlines.